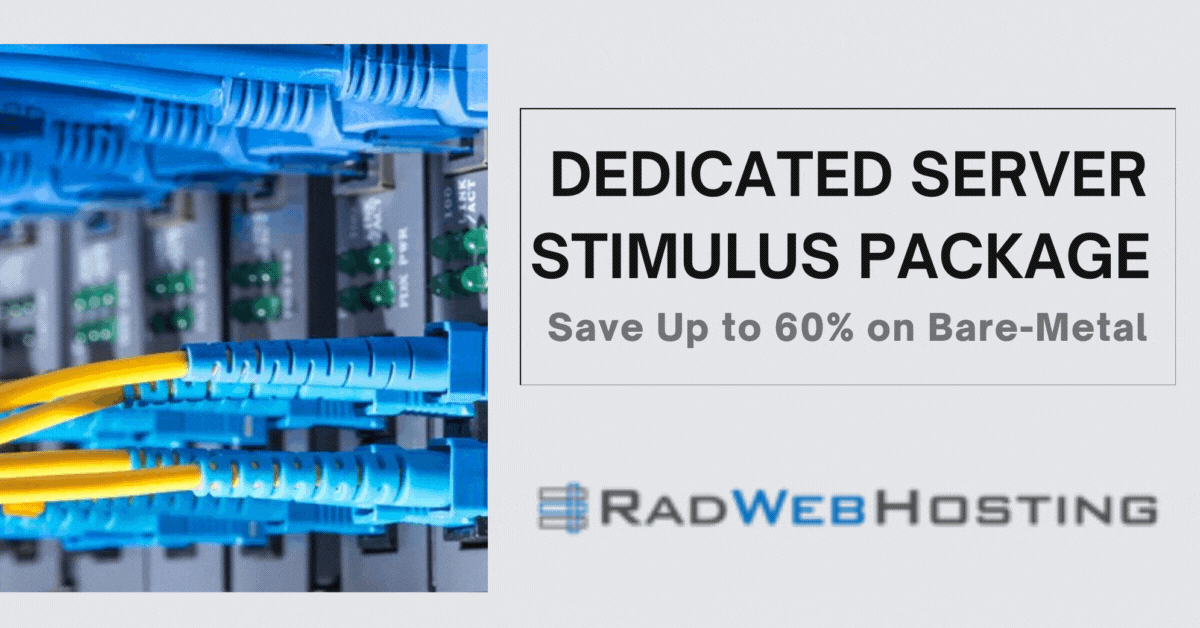 We are proud to announce the Dedicated Server Stimulus Package was unanimously approved and now active.

The Dedicated Server Stimulus Package provides a minimum recurring discount of 25%-60% on ANY (in-stock) dedicated servers.

How it works: Enter promo code "STIMULUSPKG" in shopping cart to enable 25% recurring discount for monthly billing cycles, with increased discounting applied to longer billing cycles.
Example Stimulus Package Benefits
Below is an example server package along with the details and tiered discounts applied with the Dedicated Server Stimulus Package:

Intel Xeon E3-1220 $99.00
» Operating System: CentOS 7.x (64-bit) $0.00
» Memory: 8 GB DDR3 $0.00
» Drive Bay 1: 250 GB Enterprise HDD (SATA) $0.00
» Drive Bay 2: None $0.00
» Drive Bay 3: None $0.00
» Drive Bay 4: None $0.00
» RAID Controller: None $0.00
» Network Port Speed: 100Mbps $0.00
» Bandwidth: 10 TB Bandwidth $0.00
» Control Panel: None $0.00
» IPv4 Addresses: /30 Block (1 Usable) $0.00
» IPv6 Addresses: /64 IPv6 Subnet $0.00
» One-Click Installer: None $0.00
» Virtualizor Panel: None $0.00
» Support Level: Unmanaged Support $0.00
Setup Fees: $0.00
Monthly: $99.00

Promocode: STIMULUSPKG

Monthly Price:   $99.00/mo -> $74.25/mo (25% OFF)
6-Months Price: $89.00/mo -> $66.75/mo (33% OFF)
Annual Price:     $79.00/mo -> $59.25/mo (40% OFF)
Biennial Price:    $69.00/mo -> $51.75/mo (48% OFF)
Triennial Price:   $59.00/mo -> $44.25/mo (56% OFF)

This promotion cannot be combined with any other offers. Promotion applies to new server orders only. Applicable to on-hand inventories and does not apply to custom/special orders. Sorry, no rainchecks.

Final day to claim Dedicated Server Stimulus Package benefits is 03/31/2021.
OFFER EXTENDED THRU 05/31/2021!
How to Order Dedicated Servers
Please visit our Dedicated Servers product page in order to take advantage of this offer. The page can be accessed from the following URL:

Promotional Details
Limited quantities available.
No substitutions or rainchecks.
The earliest orders will be given priority by the automated provisioning system.
The only exception to the previous rule is in the case of a submitted order and an initiated cryptocurrency transaction. In this scenario, a 2-hour reserve is placed on the server (if supplies last), while awaiting confirmation on the blockchain.
All order fulfillment is provided on "first come, first served" basis.
All services are provided on the basis of acceptance and adherence to the Terms of Service, Acceptable Use Policy, Anti-Spam Policy, as well as state and local laws.
Please let us know if we can provide assistance with your order or solve any technical questions!